Storm Chase Log 18 May 2017
Chaser: Dorian J. Burnette
Preliminary Destination: Cherokee, OK
---
Note: Images have been decreased in size. Click on an image to view a larger version.
This was day one of a two-day storm chase in the southern Plains, and what could have been a tornado outbreak quickly became more subdued due to storms developing too close to one another leading to complex interactions. This was not entirely unexpected (see 13Z Storm Prediction Center Day 1 Outlook). I arrived in Cherokee, OK by the mid-afternoon, and sat at the U.S. 64/OK-11 interchange observing the messy radar to my west. Eventually, a storm moving toward Alva became tornado-warned, so I moved west on U.S. 64 to intercept. Unfortunately, I moved on the storm a bit late, and by the time I arrived east of Alva, I encountered a rain-wrapped mess (image below; view east of Alva, looking northwest). Circulation was noted on radar (images below; car symbol denotes my location), but I couldn't see anything.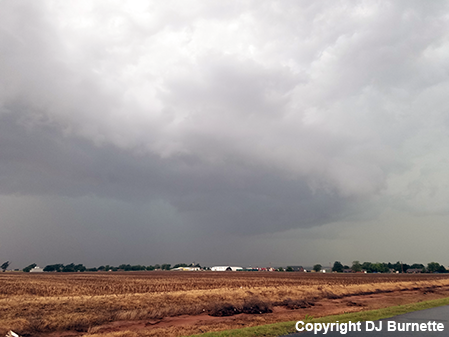 After looking at the radar trends, I decided to drop south toward a storm producing tornadoes near Waynoka (noted in the radar data above). In order to do that though, I had to swing wide around the forward-flank of the storm and head through Cherokee and south-southwest through Carmen, OK. By the time I had done that maneuver, the storm had diminished in intensity.
Another interesting cell was located farther to the southwest in vicinity of Camargo, OK, so I decided to move in that direction. I intercepted the storm southeast of Seiling, OK, but it was all outflow by then and all I observed was a shelf cloud (images below; view is southeast of Seiling, looking west). Radar data are also included below (car symbol denotes my location).
Overall, this was a difficult storm chase. Typically, on big outbreaks, you can just pick any storm and go with it. However, that was not the case on this day, and I was too late in changing tactics. I stayed with the storm near Seiling a little while longer before breaking off and heading to Clinton, OK to prepare for tomorrow's chase.