Storm Chase Log 19 May 2017
Chaser: Dorian J. Burnette
Preliminary Destination: Cisco, TX
---
Note: Images have been decreased in size. Click on an image to view a larger version.
This second day of a two-day storm chase in the southern Plains was difficult right from the start. The setup presented two choices. I could head north into KS or south into TX. Of course, I chose the direction which would have fewer tornadoes--TX. I arrived in Cisco, TX in the early afternoon and paused to have lunch and look at data. Storms were observed to my west and southwest, so I moved west on I-20 and then south on U.S. 283 to intercept the storms. The best-looking storms were southwest of Coleman, TX, so that area was my main target. Unfortunately, I was in and out of data coverage in this part of TX, but NOAA Weather Radio and simple eyeballs still work, which led me in the right direction. I started receiving data again north of Eden, TX and noted a tornado-warned supercell to my north and additional development farther to the west, so I continued north on U.S. 83. Eventually, I noticed a modest lowering on a storm south-southwest of Paint Rock, TX (image below; view is south of Paint Rock, looking northwest). Radar data are also below (car symbol denotes my location).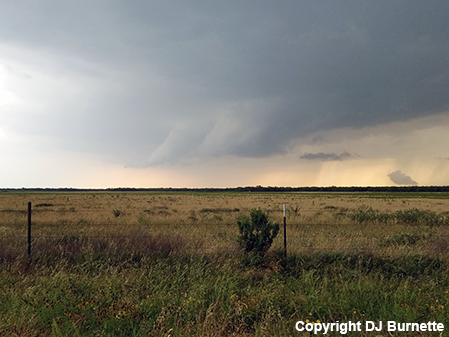 I dropped back south on U.S. 83 to put a little more distance between me and the storm, and then turned back west on Farm Road 765 east of Eola, TX to continue watching the storm as it moved into Paint Rock. All I observed was a shelf cloud (images below; view is south of Paint Rock, looking northwest). Radar data are also below (car symbol denotes my location).
The only road going east that would allow me to follow the storm northeast was a dirt road with posted construction for eight miles. Uh...hard pass! Thus, I had no choice but to drop back south to Eden, go east on U.S. 87, and then select another farm road going north. I didn't have to go too far before I found Farm Road 2134 and proceeded north on it back toward the storm. Not much was observed as I came up on the storm again, but additional development was noted farther to the southwest.
I bailed on that storm and moved back south to U.S. 87 and then proceeded west to intercept the strengthening storms to the west of Eden. By the time I arrived west of Eden, it appeared that the storms to the west were becoming more linear. A new cell had developed over U.S. 87 blocking my path, so I decided to try one of my old methods of allowing storms to pass over me while in a shelter. I picked a good spot in Vancourt, TX and hoped to be able to report hail-size to the National Weather Service to conclude the chase.
Alas, the cell at the end of a line segment had other ideas and began to show circulation to my south shortly after I arrived in Vancourt. While an outflow boundary from storms farther to the northeast had surged well south suggesting additional difficulty for the storm to initiate tornadogenesis, the circulation made me too nervous. Unfortunately, U.S. 87 east of Vancourt turns southeast. Thus, if a tornado was there, I could stand a chance of crossing its path. Thus, I had no choice but to bail into the hail core. This was my 21st year storm chasing and the first time I ever had to execute such a maneuver, but I wasted no time in taking this escape route.
As expected, hail was observed as I moved west on U.S. 87, and the largest stone I saw was ping-pong in size. I stopped east of Wall, TX to take a picture of the hail shaft (image below; view is east of Wall, looking east). Radar images are also below (car symbol denotes my location). While the circulation had weakened by this time and no tornado was confirmed, note the shape of the storm in the 0103Z base reflectivity image.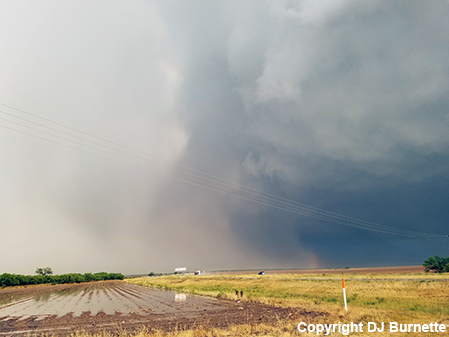 I let the storms go at this point and moved north out of San Angelo, TX to Abilene, TX for the night. This concluded the two-day storm chase in the southern Plains.