Storm Chase Log 26 May 2016
Chasers: Dorian J. Burnette and Jeff House
Preliminary Destination: McPherson, KS
---
Note: Images have been decreased in size. Click on an image to view a larger version.
This was the last day of a five-day long storm chase in the Plains. A complicated setup would take us from KS into OK and then back into KS. We arrived in McPherson, KS by the late-morning, since there was the potential for storms to develop around midday and this allowed us to have good N/S and E/W road options.
Shortly after 1 p.m. CDT, storms to our west became impressive enough that it was time to go intercept them. We proceeded west on U.S. 56 out of McPherson, KS to Lyons, KS and then headed south on KS-14 toward Sterling, KS. As we moved south of Sterling, we began to run into the hail core of the storm. Thus, we retreated to the north to U.S. 56 and then west toward a good viewing spot west of Chase, KS to give the hail core time to move. Nothing major was observed from our location (image below; view west of Chase, looking east-southeast). Radar showed an intense storm moving north-northeast (images below; car symbol denotes our location).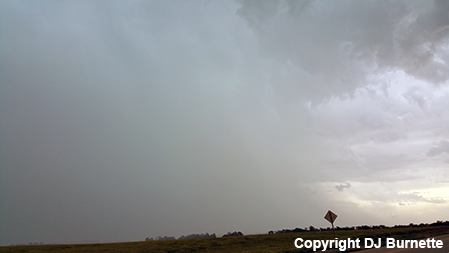 Once the storm was clear, we used backroads to move around Raymond and Alden, KS, and then took KS-14 south through Sterling. The storms looked less impressive with time though, so the plan was to follow the development to the southwest into the better environment. This eventually led us to Alva, OK. At which time, towering cumulus clouds were observed on visible satellite over the OK and TX Panhandles, and we decided to move west on U.S. 64 toward that region. As we approached Buffalo, OK, an impressive storm just across the line in KS caught our eye. We moved north on U.S. 183 back into KS and approached the storm near Ashland, KS. By this time, it was tornado-warned, but we did not observe anything yet (images below; view is east of Ashland, looking west). Radar showed an interesting storm at the end of a line segment with a suspicious appendage (images below; car symbol denotes our location).
We continued to follow the storm east on U.S. 160, and stopped again south of Protection, KS. Mammatus were noted to our north but no tornadic activity (images below). Radar data are also included below (car symbol denotes our location).
The main updraft of the storm became more impressive with time. Unfortunately, by the time we got to a spot north of Coldwater, KS, the main circulation was wrapped-up in rain. Radar showed a circulation that tightened briefly southwest of Greensburg, KS before weakening (images below; car symbol denotes our location). Rain obscured our view of any tornado, and no tornado officially occurred. However, the cloud structure was impressive (images below; view is north of Coldwater, looking northwest).
We pulled back away from the storm at this point and moved back south toward Coldwater and then east on U.S. 160. We stopped east of Coldwater to view the storm again, but nothing of note was observed. We decided to drop back south into OK where other severe thunderstorms were noted, but nothing caught our eye prior to dark. Thus, we continued into Enid, OK for the night.