Storm Chase Log 8 May 2002
Chasers: Dorian J. Burnette and Greg Hutchinson
Preliminary Destination: Hutchinson, KS
---
Note: Images have been decreased in size. Click on an image to view a larger version.
This was another chase day where we would never reach our preliminary destination. We left Wichita bound west-northwest on K-96 toward Hutchinson. On our way we spotted two healthy storm towers. One was to our south and the other was to our north. The one to the north was looking more healthy from our viewpoint, so we decided to move toward it. On the way I made a phone call to KSN to let them know what we were doing. Lisa Teachman concurred with the assement and we continued northward toward the developing thunderstorm.
We arrived under the flanking line of the thunderstorm northwest of Moundridge and south of Elyria. Shortly after we arrived, we received a call from Dave Freeman asking me if we were observing anything of note with the storm. KSN was observing strong rotation on the radar, but at the ground we were not observing anything of note at the moment. I mentioned to Dave that we were not observing anything of note yet. That statement of mine must have been the jinks of all of jinxes, as immediately after I said that, a weak tornado occurred off to north. The tornado was only denoted by a swirl of dust immediately at the ground and was difficult to photograph. I was able to grab a couple of mediocre pictures (images below). A red circle denotes the circulation. The person in the first image is Greg Hutchinson who was taking close up shots of the tornado. Greg's pictures are also below. The view is looking north-northeast toward Elyria.
The tornado was another flanking line tornado. My spring 2002 storm chases seemed to be full of flanking line tornadoes! Tornadoes are not rare along flanking lines, as I have stated in my other chase accounts (11 April 2002 and 7 May 2002). I reported my tornado observation live on-air with KSN. Unfortunately, my mobile phone dropped the call midway through my discussion. This was a problem that had plagued me with several storm chases in the spring of 2002. KSN relayed the information to the Wichita National Weather Service Forecast Office, which issued a tornado warning on the storm (text warning below).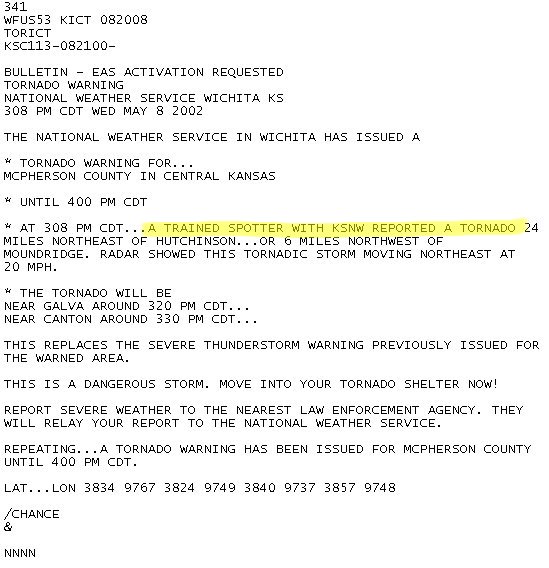 The tornado occurred for approximately a minute before dissipating. We continued to follow the storm to the east, and observed a poor contrast wall cloud with the storm for a brief time. The images below are from this time. The red circle in the images denotes the wall cloud. The final image below is the rain-free base of the thunderstorm, and we were right under it. The view is looking north toward Elyria.
I noticed some circulation with base, and decided that we had better move south out from under that rain-free base. I had no intention of meeting up with a flanking line tornado, so we moved south and east a little closer to Moundridge. At this point, we observed a new wall cloud off to our east (images below). The view is looking east toward Moundridge.
Eventually, the wall cloud began to loose its definition, and we continued on into Moundridge in order to re-fuel. Eventhough it was mediocre, KSN wanted the video we shot of the tornado, so we waited around Moundridge for Leon Liebl to come up and grab the tornado video from us. Meanwhile, other tornadic thunderstorms were developing to the southwest of Wichita and moving into the city. There were numerous reports (unknown how valid they were) of funnel clouds over the city of Wichita.
After we handed the video off to Leon, we moved southward back toward Wichita in hopes to find a clear spot through the thunderstorms, which were now evolving into a squall line. On our way, we observed some mammatus clouds and stopped briefly to take some video (image below). At that time we were in Park City looking northward.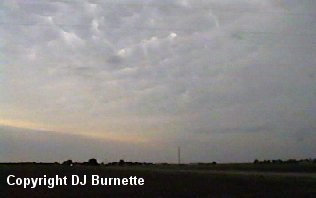 We continued to follow the squall line to the southeast. Unfortunately, we were still on the wrong side of the line, and were still looking for a good spot to cross the line. We found a clear spot in far southern Butler County, but unfortunately given the storm motion and the road situation we were unable to find a path through without having to be concerned with visibility and hail. A call to KSN confirms there is no good way through the line. With darkness upon us in the next hour, we decided to head back toward Wichita.