Storm Chase Log 7 May 2002
Chasers: Dorian J. Burnette, Joseph Crane, and Jennifer Laudermilk
Preliminary Destination: St. John, KS
---
Note: Images have been decreased in size. Click on an image to view a larger version.
This was an incredibly active day! Around 12 p.m. CDT, I was becoming concerned about all the cloud cover and the development of elevated thundestorms in northwestern Oklahoma. However, there was an area of western Kansas west of a St. John to Pratt to Medicine Lodge line that was in full sunshine and rapidly becoming unstable. After I finished teaching my classes at Wichita State University, I was met at my office by Joe and Jennifer. I made a telephone call to KSN to let them know that we were preparing to head out. There was a thunderstorm intensifying to the southwest of Wichita, but we ignored it for the action that would develop later on the dryline farther to the west.
After some discussion with KSN and WeatherData, we took off bound for St. John. We made a brief stop in South Hutchinson to fuel, grab food, and look at the Internet. The storm to our south (Harper County) was continuing to look healthy from our viewpoint, but after a call to KSN, we elected to maintain our course westward toward St. John.
As we passed the U.S. 281 and U.S. 50 interchange, we heard of a tornado warning for Harper County. We pulled off on the nearest decent road and made a phone call to KSN and WeatherData. The big thing that bothered me was that the tornadic storm would very quickly be moving into a less unstable environment. Thus, it was decided that we would ignore the storm in Harper County and continue to the west toward the developing thunderstorms near Kinsley and Greensburg.
As we crossed the Edwards County line, we heard of a severe thunderstorm warning on the storm directly to our west-southwest near Kinsley. The closer we got to Kinsley, the heavier the rain became, and I had no intention of being blinded. So we moved southward on a dirt road in order to stay out of the rain and move around to the back of the storm. As were doing so, a tornado warning was issued on the storm. We moved around to a spot about 3 miles south of Hodges, and stopped to observe the elements. We noted the wind blowing into the storm at speeds occasionally reaching 50 to 60 mph. It is a well-known fact supercell thunderstorms will "create their own environment." It is not unheard of to observe high winds blowing into a supercell thunderstorm. This high wind combined with the dry conditions in the area led to a lot of blowing dust blowing into the storm. We took some video of the storm with a poor contrast wall cloud noted off the distance (images below) and then continued south on the dirt road. Little blowing dust is noted in the pictures due to our proximaty to a paved road. The view is south of Hodges looking westward.
The blowing dust became much worse (occasional wind gusts of 50 to 60 mph blowing into the storm were still noted) as we continued southward on a dirt road, and we got a better view of the wall cloud. I made a telephone call to KSN to report what we were observing. Rodney Price mentioned there was very strong rotation and wall cloud reports less than 0.5 miles to our west, and that the storm was beginning to turn toward the right. Thus, we decided (obviously) to get the heck out of dodge and move quickly southward out of the path of the storm. As we traveled southward, we noted backbuilding to the southwest into Ford County with a new wall cloud well off in the distance. Eventually we came upon a east-west dirtroad in northwestern Kiowa County west of U.S. 183. We stopped here to take a few more pictures of the storm, and noted one wall cloud off to our northwest (poor contrast thanks to considerable blowing dust) in addition to the new wall cloud well off to our southwest (images below).
The wall cloud off to the northwest soon became disorganized, and it was quite clear that the new wall cloud off to the southwest would shortly become the main show. The storm was also still moving southeastward toward us. Thus, we moved eastward on the dirt road a short distance to a hilltop. From this angle we were out of danger for the moment and able to keep an eye on the development to the northwest (which was now mainly heavy rain and hail) and the new business end of the storm to the southwest. The business end of the storm began to do some business a few minutes later with a decent-sized tornado noted (images below). Unfortunately, from our position the tornado was poor contrast. The view is looking southwest into northeastern Ford County.
As the storm continued to move southeastward, we continued to move eastward from hilltop to hilltop continuing to film the tornado. The following set of images is a little farther eastward closer to U.S. 183. The view is looking southwest into northeastern Ford County. From our view, the tornado was very healthy looking and continuing to grow in size. At this time, I made a telephone call to KSN to report what was going on.
Eventually the tornado entered the rope stage and then dissipated. The storm was still moving toward us from the northwest, and we decided to continue eastward on the dirt road to U.S. 183 and then take U.S. 183 southward to get ahead of the storm. On our way southward on U.S. 183, we observed one storm chase team who failed to pull completely off the road. I was definitely not amused by having to swerve to avoid hitting these boneheads. Major chaser convergence was noted at the intersection of U.S. 183 and U.S. 54. At this point, it had become late enough that Joe and Jennifer had to depart for work later on that evening.
I continued my way past the chaser convergence at U.S. 183 and U.S. 54 and moved onto dirt roads south-southwest of the intersection. A new wall cloud had developed to my west, and I pulled over for a time to watch it (images below).
I made a phone call to KSN to report what I was observing. Dave Freeman mentioned the storm was impressive, and may do something soon. I moved a little farther to the south on the dirt road and took more video of the wall cloud (images below). I was still west of U.S. 183 at this time, and the view is looking west.
As I filmed that wall cloud, a new wall cloud developed off to my northeast toward Greensburg (images below).
I am now in between two wall clouds, and decided I would head a little farther to the east. I ended up east of U.S. 183 on a dirt road continuing to observe both wall clouds. I made a phone call to KSN and Rodney Price mentioned the wall cloud off to my northeast was too far away for me to catch (that wall cloud that would eventually lead to the large tornado near Cullison and Pratt). Since I did not have a chance of catching that wall cloud, I decided to move into a good position to observe the wall cloud off to my southwest, which was becoming increasingly massive. I began to move southward on a dirt road and all of a sudden I had to come to an abrupt stop, as a tornado developed in front of me. Observing the two wall clouds placed me under the flanking line of the storm to my northeast. Tornadoes are not rare along flanking lines, and this is a prime example why you cannot concentrate on just one area of the storm. I definitely did not like being caught off guard by tornado development, and I wasted no time responding either. I immediately turned around and moved back northward to the next dirt road going west. Once I arrived at that dirt road, I moved westward to a good location to where I could make a quick stop to grab some video. In the images below, there are three distinct circulations (three separate tornadoes). One image shows each circulation denoted by a red circle. The view is looking south.
I also took some video of the massive wall cloud off to my west (image below).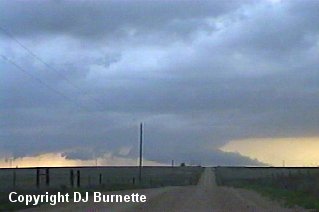 I then continued my way back to the west toward U.S. 183, and then began to work southward on U.S. 183. I continued to monitor the wall cloud off to my northwest in addition to the tornadoes off to my south-southeast. The tornadoes dissipated after a couple of minutes. My last stop for storm observation occurred just north of the Kiowa/Comanche County line. I continued to film the wall cloud I had been watching to my northwest for about the next 15 to 20 minutes (image below).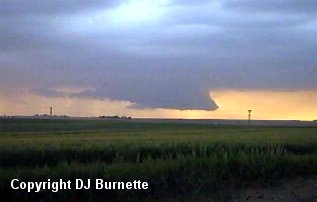 Eventually, a downburst was noted by the wall cloud. The rain and dust were blowing outward underneath the wall cloud, and could easily be mistaken for a tornado (images below). The view is looking north toward U.S. 54.
No cyclonic circulation was ever noted from the rain and dust cloud. It just marked the leading edge of very high downburst winds. In fact, it was noted that the high downburst winds were behaving as a "minature cold front" and lifting the air ahead of them causing new cloud formation on the eastern side of the wall cloud. The outflow killed the wall cloud and it began to loose organization about 5 minutes later.
With the storms lined up on U.S. 54, I decided to move southward to U.S 160 and take it eastward toward Wichita. I made a brief stop in Medicine Lodge to call both KSN to see if they needed anything else before I drove to the station with my video. I also called WeatherData to see how far eastward the storms extended. It seemed reasonable that I could beat them to Wichita, and I was able to do just that.
Shortly after midnight, I was on KSN being interviewed by Anita Cochran regarding my observations from the field. I must also say that my GPS/laptop computer combination was priceless on this storm chase day as well as others during the spring of 2002. Although, as usual, I had ordinary paper maps with me on this chase just in case something went wrong with the technology.