Storm Chase Log 20 May 2013
Chasers: Dorian J. Burnette and Megan Piquiet
Preliminary Destination: Ardmore, OK
---
Note: Images have been decreased in size. Click on an image to view a larger version.
This was Day 3 of a three-day storm chase in KS and OK (Day 1 account here; Day 2 account here). We would never make it to Ardmore before storms would erupt. In fact, they were developing to our west and southwest as we moved south on I-35 out of Oklahoma City, OK. We stopped for food in Pauls Valley, OK, and heard the first tornado warning issued on the storm that would eventually produce the Moore, OK tornado. It was very tempting to head back up I-35 toward the Moore area, but I do not like storm chasing in metro areas. Thus, we let it go and stayed on storms farther to the south. We moved south on I-35 to OK-29, and then west on OK-29 into Elmore City, OK, where tornado sirens were sounding on the storms to the west of town. We waited in Elmore City for the heavy rain on OK-29 to move north of the highway. Once it did, we continued west to intercept the storms.
Unfortunately, OK-29 is full of trees and hills, which complicates storm chasing. Add the plethora of chasers that were also in the area, and it was difficult to move around. We moved west toward the OK-29/76 interchange south of Erin Springs, OK. There were two storms in the area. One was north of OK-29 with a rain-wrapped tornado reported. Our interest though was on the second storm to the south, which looked good on radar. Alas, the forward-flank of this storm would nail us with rain and hail if we stayed at the junction of OK-29/76, so we moved back toward the east on OK-29 to try to find a high spot and view this storm's southwestern end. Once we were able to stop, a wall cloud well off in the distance was noted through the fencing (image below; view is west of Elmore City, looking west). Radar data are also included below (car symbol denotes our location).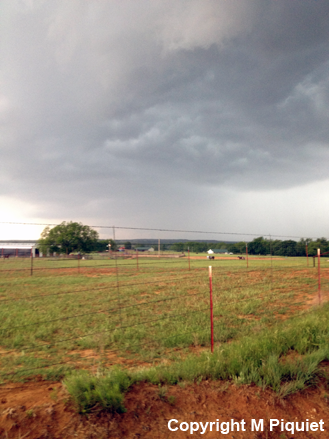 While it might be possible to get closer to this area of rotation by heading back to the west once the rain and hail moved north of OK-29, given the amount of viewing obstructions and the number of chasers, another tactic was warranted. We continued east on OK-29 back into Elmore City and then north on OK-74 to get out ahead of the storms, find a high spot, and wait for them to come to us. The interest was still on the southern storm, but the northern storm was still showing rotation and producing tornadoes. South of Antiock, OK, we did notice a possible funnel cloud. Various obstructions and a rain curtain prohibited us from taking pictures and determining whether this was an actual tornado. Once we arrived in Antiock, a spotter report confirmed a rain-wrapped tornado. Meanwhile, the storm to our southwest was approaching us. We had gone a bit too far to the north, so we moved back to the south of Antiock and were greeted by a large wall cloud off to our west (images below; view is south of Antiock, looking west-northwest). We pulled over at the next convenient location to monitor this portion of the storm. Radar data showed the storm had lost its pronounced hook-echo, but still showed circulation in our location (images below). Our location, denoted with the car symbol, is only approximate, since I had no GPS and was unable to precisely locate our position using Google Maps.
Of interest to us was the fact that a cold wind was rushing out from this portion of the storm as we viewed the wall cloud--the storm was outflow dominant and the wall cloud losing its definition. Odds of tornadogenesis were sharply lower despite the circulation we observed. By this time, this storm was merging with the storm to the northeast and undergoing a complex interaction. This may be why we observed a big wall cloud yet no tornado and lots of cold outflow. We followed this storm back toward I-35. It had reorganized once again and another rain-wrapped tornado was reported in vicinity of Pauls Valley. It was at this moment that my instinct was telling me to bail on this storm and move south into TX. I stopped briefly to reassess the situation. The storm we were on was looking good again, producing confirmed tornadoes, and the environment out ahead of it was good. It was hard to resist, so we stayed with it. In the end though, I should have listened to my instinct.
The objective was to move east on OK-29 to U.S. 177, and then move north to intercept the storm. We would have plenty of time to do this, and this plan would have worked had the supercell not decreased in intensity. Visually it was looking poor and radar imagery confirmed this. The environment still seemed to be good, but other storms were developing to its southeast and those may have impacted its inflow. Thus, the objective was to move back to the south on U.S. 177 and intercept a big supercell that was west of Ardmore, OK. If we could make it to Dickson, OK, U.S. 177 would turn east and we would be in a good position to follow the supercell on U.S. 177 and on OK-1. Alas, this was not to be. First, we got slowed down by having to punch through a lead thunderstorm near Sulphur, OK. Then, as U.S. 177 curved to the west a bit northeast of Gene Autry, OK, we could go no farther, as a large wall cloud loomed before us (images below; view is northeast of Gene Autry, looking south-southwest). Radar imagery noted the storm was taking a right turn and cutting off our progress to the south (images below; car symbol denotes our location). We had no choice but to turn around and move back to the north.
If my GPS technology would have been working, I would have noticed a potential re-intercept course via Mill Creek, OK. That said, the storm was clearly a high-precipitation supercell and later radar imagery showed any circulation was well wrapped up in rain.
We moved back north and northeast on into Ada, OK, but by this time, the storms were merging into a large line and heading into southeastern OK, which is very bad chase country. We photographed mammatus in the sunset again at U.S. 377/I-40 north of Seminole, OK, before heading east to Sallisaw, OK where we would stay the night prior to driving back to Memphis.
On the way east, we listened to radio coverage from Moore, OK. We also had more excitement as we closed in on Sallisaw. We had caught up with the back edge of the storms and observed high straight-line winds on I-40 that shook the car and came close to knocking over trucks.