Storm Chase Log 12 June 2005
Chasers: Dorian J. Burnette, Brittany Millspaugh, and Chris Wilson
Preliminary Destination: Perry, OK...later revised to Bridgeport, OK
---
Note: Images have been decreased in size. Click on an image to view a larger version.
This was another day that looked impressive several days prior, but the setup became increasingly questionable as the day approached. By the morning hours, it was quite clear that nothing was going to happen in Kansas since the cold front had moved well south into Oklahoma leaving post-frontal precipitation there. The best setup this day was in Texas, but that was a bit far to go with a late start.
Our original target was Perry, OK, but the continued progression of the cold front moved that destination farther toward I-40 with time. We called WeatherData to report the developing thunderstorms north of Oklahoma City during the mid-afternoon and Mike Doll mentioned that those really were not very impressive and that the better storms were developing well west of Oklahoma City from I-40 southward. Thus, we decided to move west on I-40 toward Bridgeport, OK.
Things became very interesting very quickly as we arrived in Bridgeport with a potent thunderstorm noted off to our west. We stopped briefly at I-40 and U.S. 281. An attempt to connect to the Internet proved futile but reports of possible rotation were heard on the radio. Thus, we moved north on U.S. 281 and sat northeast of Bridgeport watching the storm and observed one wall cloud immediately (images below; view is northeast of Bridgeport looking west).
No tornadoes were ever observed and the wall cloud diminished a couple of minutes later. I called WeatherData to report the observation and Mike Doll mentioned that the better organization with the storm was farther to the southwest. Thus, we decided to depart and move back south on U.S. 281. Passing around Hinton, OK, we noted a nasty looking shelf cloud off the distance (images below; view is near Hinton, OK looking west).
The shelf cloud was catching up to us quickly and we noted straight-line winds blowing quite a bit of dust around. We stopped briefly south of Hinton, OK to take more pictures (images below; view is south of Hinton, OK looking southwest).
The storm was rapidly gaining on us and as we moved south, the high winds did impact us and knock the car around a bit. We eventually got back out ahead of the storm and moved through the town of Binger, OK where tornado sirens were sounding. All that was noted was a very nasty looking shelf cloud and gusty straight-line winds (image below; view is from the westside of Binger, OK looking west).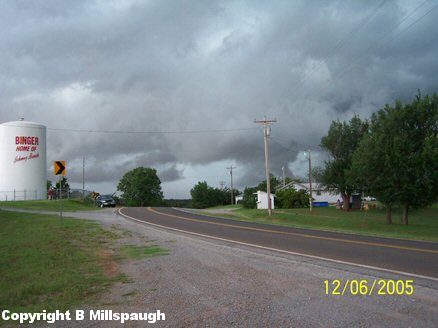 We were interested in going west, but GPS mapping software suggested we would have to go west a few miles before a good road would go south. Not to mention that road contained numerous trees and low spots to obstruct the view and the storm meanwhile was rapidly continuing to move south and east. Thus, moving west would not be a smart decision and we continued south on U.S. 281. We stopped west of Spring Creek in order to photograph a downburst (images below; view is west of Spring Creek on U.S. 281 looking east).
The storm was clearly starting to loose some of its punch and a call to WeatherData confirms this, but other storms were noted farther to the southwest with better stuff yet well out of our reach in Texas. Thus, we decided to continue south on U.S. 281 watching the other storms for any signs of organization. Nothing much was seen other than some cloud-to-ground lightning and heavy rainfall. We eventually ended the chase in Lawton, OK since darkness was quickly approaching and began the journey back to Kansas.
Thanks to Andrew Gagnon and Mike Doll at WeatherData, Inc. for morning discussions and nowcasting.