Storm Chase Log 8 June 2005
Chasers: Dorian J. Burnette, Jeremy Howard, and Chris Wilson
Preliminary Destination: Marion, KS
---
Note: Images have been decreased in size. Click on an image to view a larger version.
We departed shortly after 2 p.m. CDT bound for Marion, KS. As we moved north on U.S. 77 we noticed that the majority of the towering cumulus clouds were off to the east although even those were having trouble. We moved east on U.S. 50 a bit and then sat in Cottonwood Falls, KS looking at data on the Internet. Eventually, some decent towers developed to our south and we decided to move south out of Cottonwood Falls tracking those. The majority of the development was still off to the east of us though, so we decided to trust GPS and take an alleged "main road" south and then east through the extreme southern portions of Chase County. This "main road" was nothing more than a terrible dirt/rock road through various sections of rangeland. Thankfully we were not in chase mode at the time. We finally were able to get on a good dirt road in vicinity of Teterville, KS in extreme northwest Greenwood County, but by then the best cumulus cloud development was farther toward the north near Emporia. Thus, we continued east on the dirt road to K-99 and then took that north on into Emporia.
Thunderstorms were rapidly developing as we moved through Emporia. A call to WeatherData was made and Scott Breit mentioned that the storm immediately to the north was looking healthy. Thus, we moved to the northeast of Emporia and pulled off K-170 to watch the storm to our north. All we noted was a shelf cloud (image below; view is west of Reading, KS looking north) with some gusty winds.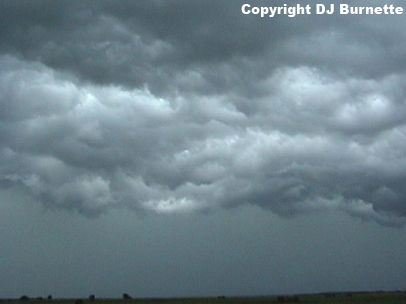 Thunderstorms also were developing to the southwest and eventually a tornado warning was issued on the one immediately off to the southwest. We decided to move toward the tornado warned storm, and we did notice a minor wall cloud well off to our northwest as we moved north on K-99. We pulled off K-99 between Emporia and Admire to watch the minor wall cloud decay. Reports were then made to KSN and WeatherData to let them know of the observations so far.
We attempted to move north on K-99 toward Admire, but the storm was moving at a good pace and it quickly became clear that we would not make it to Admire without being engulfed in rain and hail. Given that and the additional development back to the southwest into southcentral KS, we decided to move back to the southwest along the line of thunderstorms looking for anything of note. We eventually stopped in a good position just southwest of Cassoday, KS looking at a rain-free base over the rolling Plains. Several cloud-to-ground lightning strikes were noted (images below; view is southwest of Cassoday looking west).
As we continued to film the storm, we did observe a brief period of decent inflow winds. At the same time, a lowering developed. This lowering (I wouldn't call it a wall cloud) only occurred for a brief time and began to disintigrate once the brief period of inflow winds ceased. Images from this time are below (view is southwest of Cassoday looking north).
We continued to film additional cloud-to-ground lightning strikes and the shelf cloud that was becoming increasingly grumpy looking with time. Images from this time are below (view is southwest of Cassoday looking west in the two images on the left, north in the second image from the right, and south in the far right image).
We then moved farther to the southwest and took more images of the mammatus clouds and additional cloud-to-ground lightning strikes northeast of El Dorado Lake (images below; view is northeast of El Dorado Lake looking north).
Sunset was fast approaching as we moved closer to Wichita with the tornado threat greatly diminishing. Thus, the chase was over and it was time to beat the storms home.