Storm Chase Log 12 May 2004
Chasers: Dorian J. Burnette, David LaRue, and Bryan Wade
Preliminary Destination: Pratt, KS
---
Note: Images have been decreased in size. Click on an image to view a larger version.
David and I departed Fayetteville, AR shortly after 8 a.m. CDT and arrived in Wichita shortly before 1 p.m. CDT. Bryan Wade met us at Wichita State University, and we looked the latest data on the Internet before continuing westward out of Wichita. The cold front had passed through Pratt, KS, so we stopped in Kingman, KS to have a mid-afternoon dinner. We were just finishing up dinner when I received a page from KSNW-TV notifying me about a mesoscale discussion from the Storm Prediction Center that mentioned a watch would be issued soon. We stayed in Kingman, hooked up to the Internet, and began to closely watch the satellite and surface observations. A tornado watch was hoisted just as we were beginning to download data off the Internet. We sat in Kingman for a good couple of hours looking at various data and National Weather Service discussions. At this time, a surface low was along the KS/OK border with a dryline bulging toward Medicine Lodge, KS. I was watching the increasing cumulus in that area like a hawk. Other cumulus were increasing along the cold front to our north. Eventually there was one echo on the radar north of Newton, KS, but I was far more concerned about the increasing cumulus along the bulging dryline. Fair weather cumulus clouds began to dramatically decrease as 5 p.m. CDT approached, and it was obvious to us that energy was becoming concentrated along the boundaries and it was time to move.
We traveled west on U.S. 54 toward Pratt, KS and noticed the growing towers to the southwest. We took K-64 around the southeast side of Pratt to bypass the city (thanks to Bryan Wade for mentioning the shortcut), and then took U.S. 281 southward into southern Pratt County. We stopped south of Sawyer, KS to look at a very photogenic low-precipitation supercell off to our southwest (images below; view is south of Sawyer, KS looking southwest).
I called KSNW-TV at this time to let them know where we were and what we were observing. Dave Freeman mentioned that both our storm and a storm off to our south (image above; view is south of Sawyer, KS looking south) were looking good. The low-precipitation supercell to our southwest did have the appearance as if it would be producing more precipitation very soon. It also was moving in our general direction, so we moved southward a little farther into northern Barber County to avoid being engulfed by precipitation and keep an eye on its backside. We stopped on U.S. 281 west of Lake Arrowshead to take more video and pictures (first four images below; view is looking west from U.S. 281).
Mammatus clouds were noted as well (image above; view is looking north from U.S. 281). Meanwhile, the southwestern end of the storm attempted to organize. We observed rising scud clouds, and eventually the formation of a wall cloud (images below; view is looking west from U.S. 281).
No funnel clouds were observed. Shortly after this wall cloud dissipated, we noticed that the storm was splitting (images below; view is looking west from U.S. 281).
The mammatus clouds were becoming better defined as well (images below; view is looking north from U.S. 281).
After the storm split, the southern part became a well-defined low-precipitation supercell. Incredible storm rotation was noted with a well-defined inflow band (images below; view is looking west from U.S. 281).
We continued to watch the rain-free base in the area where the inflow band was moving in toward the storm and areas to the southwest where a new wall cloud formed briefly (images below; view is looking west-southwest from U.S. 281). Notice the "pancake-like" appearance to the storm in the second image. This is a sign of a very well organized mesocyclone.
Eventually, we noticed a rapid lowering and the development of a new wall cloud to the northeast, which coincided with the inflow cloud band (images below; view is looking west from U.S. 281). A lightning bolt can be observed in the center image below.
The inflow band gradually moved over our location from the south, and began to obscure the lowering wall cloud off to our west (image above; view is looking west from U.S. 281). Rapid rotation was noted on the part of the wall cloud that we could see. In addition, part of another storm off to our south was gradually closing in on our location. Thus we decided to move back to the north to minimize the chance of being blinded by rain and/or hail and to keep a close eye on the wall cloud. Rain began to increase, as we moved northward on U.S. 281. We stopped in far southern Pratt County just north of the Pratt/Barber County line. Occasional rain was falling at our location, and it was hard to see the wall cloud that we had been watching off to our west. We were able to see a wall cloud associated with a storm farther to the northwest though (images below; view is looking west-northwest from U.S. 281).
Hail then began to fall at our location, and that was when our storm began to do some business. The hailstones were few and far between and some were about the size of quarters. We were not blinded by any means, and we caught a very good glimpse of a funnel attempting to make contact with the ground. I immediately made a phone call to KSNW-TV to let them know what was going on. I told Dave Freeman that I was unable to confirm a touchdown from my location, but I did learn a few minutes later that a spotter had reported a touchdown to the Dodge City National Weather Service. Images of the tornado are below (view is just north of the Pratt/Barber County line looking west). The amount of time elapsed is approximately one minute and thirty seconds.
Our storm was transitioning into a high-precipitation supercell with a very nasty hook echo on radar. Dave Freeman mentioned that there was another possible tornado off to our southwest and that we should immediately head north and then east. We therefore continued north on U.S. 281 into Sawyer, KS, and then took K-42 east. We eventually found a good spot to sit on K-42 between Sawyer and Isabel, and off to our south-southwest was yet another wall cloud. We watched the wall cloud, as it approached our location (images below; view is east of Sawyer and northwest of Isabel looking south-southwest). It was all bark and no bite though despite the good radar signatures.
Rain and hail began to increase at our location, as this wall cloud approached. Some sunshine also was noted, and a rainbow began to develop off to our east. The hail and rainbow images are below (view is east of Sawyer and northwest of Isabel looking north and east). The hail was primarily the size of quarters or smaller, although, we did observe a few hailstones that were the size of golfballs.
We followed the wall cloud to the east on K-42. The highway turns to the south before turing back to the east just west of Isabel. By the time we arrived in the area were the highway turns south, the wall cloud was passing across the highway (image below; view is northwest of Isabel looking south). We stopped to let the wall cloud pass over the highway before continuing on. Good rotation was still noted with the wall cloud, but once it got northeast of Isabel, it began to fall apart. We continued to hear of good rotation with the storm though via radio reports. Reports also began to come in on the storm to the southeast, and I had received a page from KSNW-TV that the storm to our southeast was definitely the show. Unfortunately, there was a delay in receiving the page since I was in and out of digital service. Doh!!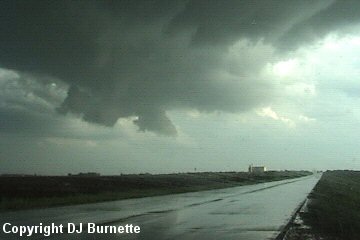 We continued to watch our storm while moving to the east on K-42. We stopped west of Rago, KS to watch the rain-free base and a very minor wall cloud attempt to organize once again. We also were hearing reports off the radio of this storm organizing on the radar. The images are below (view is west of Rago looking north).
This was the storm's last attempt to do some business. It was quite obvious to us that the main show was off to our southeast. The amount of daylight time was strongly against us though. Thus, while I considered moving due east on K-42 to K-49 to move toward the storm, that path would take a considerable amount of time. Thus, we moved southward on K-14 into Harper County and eventually the town of Harper, KS. After running into hail, I decided to move farther to the east, and we eventually ended up near the U.S. 160/K-2 interchange. By this time it had become too dark to see much, and I did not like the position we were in. I made a quick call to WeatherData to let them know where we were at and that we were observing 60-65 mph straight-line winds in Harper. Guy Pearson said that in addition to the main tornadic storm to the southeast of our location, there was another moving in to our southwest. Needless to say, we decided to move northward out of the way of any tornado approaching from the southwest. On the way back into Kingman County, we ran into very heavy rainfall, high straight-line winds of 60-65 mph, and some modest hail.
Some flooding was noted in the town of Kingman, and the rain did not decrease in intensity until we arrived in the western outskirts of Wichita. I had been in extremely heavy rainfall at the end of storm chases before, but the intensity of the rainfall in vicinity of Kingman was easily the worst that I had ever been in. We continued to listen to reports on the radio on the way, and much of the focus was on the storms in Harper and Sumner Counties. We just needed to get through the heavy rainfall.
This was a very fascinating storm chase with some incredible observations of storm structure and rotation! Given the structure of the storm we were on, it would likely have produced much more had the one to the southeast not robbed the inflow. Thanks to Wes Etheredge at WeatherData, Inc. and Mark Bogner at KSNW-TV for morning discussions. Thanks to Dave Freeman at KSNW-TV and to Guy Pearson and Chris Bowman at WeatherData, Inc. for nowcasts.