Storm Chase Log 22 April 2004
Chasers: Dorian J. Burnette, Jo Ann Kvamme, David LaRue, and Greg Vogel...met in the field by Archie Losey and others from the University of Oklahoma
Preliminary Destination: Okemah, OK
---
Note: Images have been decreased in size. Click on an image to view a larger version.
We departed the University of Arkansas shortly after 1 p.m. CDT bound for Okemah, OK. As we approached Fort Smith, AR, we heard that a tornado watch had been hoisted for much of eastern OK eastward into western AR. Low cloud grunge was noted during much of our journey in western AR. The farther we drove westward into OK, however, the thinner the low cloud grunge became. As we neared the preliminary destination, we heard of tornado warnings being issued on the thunderstorms in vicinity of Broken Arrow, OK. However, we noticed good towering cumulus off to our west. Thus, there was no reason for us to deviate from our target, especially given that the tornadic supercell in vicinity of Broken Arrow, OK was near a major city (chasing in cities is just not wise).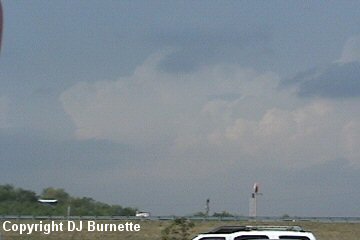 We arrived in Okemah, OK around 4 p.m. CDT, and continued to watch towering cumulus clouds off to our north and west. One storm to our north had an overshooting top (image above; view is looking north from near the I-40/U.S. 62 interchange in Okemah). We also looked at data on the Internet, which suggested the spot we were in remained prime. Our main concentration was on the storm rapidly developing off to our west. It was at this time that we met up with Archie Losey and others from the University of Oklahoma. We all were taking pictures of the main storm of interest, which was looking very healthy (images below; view is looking northwest from near the I-40/U.S. 62 interchange in Okemah).
Once we began to notice low cloud formations on the back side of the storm, we all agreed to move northward to intercept this area. We moved northward through Okemah, and then traveled east on Highway 56, which curves to the north and brought us into a good position. We noticed a very nice tail cloud upon our arrival (image above; view is north of Okemah and east-southeast of Okemah Lake looking north). We continued to watch this part of the storm like a hawk. We did note rotation and rising scud clouds. Undoubtedly the storm was trying to get its act together, but inflow was noted to be very weak and perhaps this was the reason why we did not observe anything more at this time. Images below were taken during this time (view is north of Okemah and east-southeast of Okemah Lake looking north and northwest).
Eventually the storm moved far enough to the northeast that we needed to reposition, and we moved back to the south on Highway 56 to a blacktop road that traveled eastward parallel to I-40 toward Henryetta, OK. We kept a close eye on the storm during this time, as we moved eastward. Eventually, we noticed a good wall cloud, and stopped to take some pictures/video once we found a good spot to pull over (images below; view is west of Henryetta looking north).
There is more here than meets the eye, as close-ups from the cameras captured some interesting images. The official ruling is funnel cloud/possible tornado since it is impossible to deduce the state of the ground thanks to dumb hill obstructing our view. Whatever was going on though was very short-lived. Images are below (red circles denote the funnel cloud/possible tornado).
We followed this storm through Henryetta, but we also noticed a gradual disorganization of the wall cloud. Another storm a little farther to the northeast was showing some better signs of rotation per radio reports, so we decided to leave the storm around Henryetta for the time being (we could always come back to it, if it decided to get its act together). We moved northward out of Henryetta via Highway 62, which then turns back to the east at Okmulgee, OK. We continued eastward to the Highway 72 junction, and heard that the Henryetta storm was trying to organize once again. The storm to the northeast also was moving into bad terrain and a region with multiple cities. Darkness also was approaching, and given all of this, we decided to move back toward the Henryetta storm.
We moved southward on Highway 72, and then back to the west on U.S. 266 toward the storm. There was simply nothing impressive about this storm though. Once we ran into heavy rain, I began looking for a place to turn around in order to move back to east. Unfortunately, the spot I picked was worse than it appeared to be, and we all got stuck in the mud. Let this be a lesson...do not let grass-covered areas deceive you! It was raining hard, but it had not been doing so for very long. You did not have to pull over very far to get stuck either, Archie Losely pulled off just enough to be off the road, and he too got stuck. We were fine as far as our location relative to any potential storm trouble. This is yet another prime example why I attempt to keep a safe distance, as you have got to allow for last minute Murphy's Law issues.
By the time we got out of the mud, the storms were well off to our east, and with darkness approaching, we decided to call the chase good and head back toward home. On the way, I called Jeff House at WeatherData to see if there was any trouble in our way, and he mentioned we would not run until anything until we got closer to Fayetteville, AR. We did run into a storm south of Fayetteville, but we only experienced heavy rainfall and a little hail.
Earlier in the evening, a tornadic storm moved across southern Washington County, AR. Greg Vogel resides in West Fork, AR, and noted some hail damage. His images are below.
Thanks to Wes Etheredge at WeatherData, Inc. and Mark Bogner at KSNW-TV for morning discussions. Thanks to Jeff House at WeatherData, Inc. for the nighttime nowcast.