Storm Chase Log 4 May 2003
Chasers: Dorian J. Burnette, Andrew Gagnon, Jess Gagnon, and Cory Phelps
Preliminary Destination: Emporia, KS
---
Note: Images have been decreased in size. Click on an image to view a larger version.
I was working at WeatherData during the morning into the early afternoon, and thus did not get out into the field until 3 p.m. CDT. We made a vast attempt to catch the storms, but they started too early and moved too fast for us to catch them. Andrew and Jess were already out in the field and sitting around the Emporia area when Cory and I took off to meet them. The thinking at the time was yes there were storms in far eastern KS, but further development should occur back to the west along the dryline. At the time of departure, visible satellite imagery confirmed this, as towers were going up between Newton, KS and Emporia, KS. On our way up to Emporia via the Kansas Turnpike, Cory and I grabbed a picture of the towers across far eastern KS (image below). The view is east of Wichita looking east.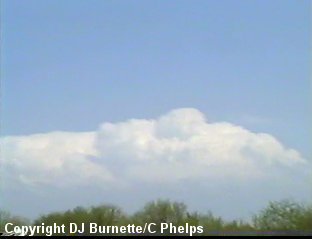 Unfortunately, the expectation of additional development back west along the dryline was not realized, as the storms farther east in the deeper moisture became the real show. This meant even Andrew and Jess were out of position. They left Emporia just prior to Cory and I arriving, and we all made a dash for a tornadic storm moving into Miami county in northeastern KS. We were in contact with WeatherData at this time, and Wes Etheredge informed us of a large tornado in Kansas City. He also mentioned there was tornadic activity with the storm preparing to enter Miami county.
Warning...the following is a diatribe...to skip the rant proceed to the next paragraph. Nothing ticks me off more than to observe the public not being properly warned of severe thunderstorms and tornadoes. Lives are at risk here, and the public needs to be notified. The radio stations in northeast KS, especially the Kansas City stations had absolutely pathetic storm coverage! We heard of no warnings whatsoever being broadcast on any of the Kansas City stations. Perhaps Cory and I just missed it, but our scan button was on rather frequently. Not until after the tornado had gone through the city and damage reports began to come in did the radio stations begin to pick up on things and do more coverage. All it takes is 20 seconds to say "tornado warning for xx county until xx; possible tornado moving toward xx" as you bump from commerical break into music. I understand some radio stations are nothing but satellite broadcasts with no djs at the local station, but that is not an excuse, as the warning can be transmitted via the Emergency Alert System. In my opinion, radio stations that do not properly warn the public in their listening area of severe thunderstorms and tornadoes deserve to have the Federal Communications Commission (FCC) revoke their broadcasting license! In case you are wondering...yes, the FCC can legally do that. TV and radio stations are required by law to notify the public of emergency situations including severe thunderstorms and tornadoes. I have noticed some of the radio stations attempt to get around this by covering only a select county or two (a metro area of a city), which is absurd and needs to stop! Thankfully, this utter lack of coverage was not the case everywhere on this day. Archie Losey was chasing the storms in southeastern KS and southwestern MO. He mentioned the radio stations covered things very well. I remember going off about the coverage those radio stations had during the Parsons, KS tornado, so I commend those radio stations on their outstanding performance. Now with that off my chest, on with the storm chase account....
We made a vast attempt to catch up with the tornadic thunderstorm moving across parts of Miami county by traveling eastward on Highway 68 on into the town of Louisburg. There we noticed the storm was still a considerable distance to our east with a large hail core noted. We were hearing reports of tornadoes with the storm, but we were on the wrong side to see them. We also heard the storm was moving away from us at 65 mph, so any attempt to catch up with it would prove futile. Thus, Andrew and Jess stopped in Louisburg and waited for Cory and I to catch up to them. During our stop in Louisburg, we observed a developing thunderstorm to our west. Upon a quick check of the radar data on the Internet, we decided to go after to the storm to see what it would do. We did observe some penny to quarter-sized hail, but that was all it (image below).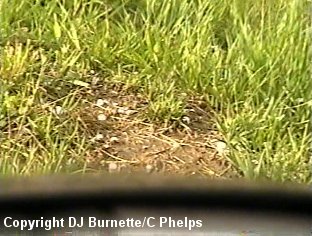 We continued to follow the storm on through the southern side of Kansas City and into northwestern MO, but did not notice much other than a few SLCs (Scary Looking Clouds). We decided to head back toward Wichita at that time given the closest tornadic storms were well to our north and south and darkness was approaching. We ran into an ugly SLC on Highway 68 between Ottawa and Louisburg, which was the flanking line of yet another thunderstorm located to our north. We took some video of this thing (images below), but it was all bark and no bite.
We stopped in Ottawa to fill up with gas. During our stop, we noticed a good lightning show to our northeast, and we took some video of that (image sequence below).
All in all, it was a very interesting chase, and had I been able to leave only an hour sooner, we likely would have observed much, much more.