Storm Chase Log 29 May 2001
Chasers: Dorian J. Burnette, Lindsay Burge, Joesph Crane, and Cory Phelps
Preliminary Destination: Liberal, KS...revised during the chase to Dodge City, KS
---
Note: Images have been decreased in size. Click on an image to view a larger version.
We began the chase by heading out of Wichita, KS on U.S. 54 towards Pratt, KS. We stopped in Pratt to eat and make certain things were all ready to go. It is at this time that I made a phone call to Dave Freeman at KSN, and he mentioned that there was a thunderstorm trying to develop around Ashland, KS.
We moved south on U.S. 281 and then west on U.S. 160 toward Ashland. On the way we passed under a few showers and thunderstorms (a couple of bolts of cloud-to-ground lightning were observed) that did not impress us too much. By the time we reached Ashland we saw a few towers off to the east and southeast of our location, but nothing overly impressive yet. We were also aware of thunderstorms becoming more organized to our north around Dodge City. I called KSN and they mentioned that the storms to our north were not overly impressive at the moment.
With that being the case, we decided to ignore the storms to the north for the time being and keep an eye on the growing towers to our south. We continued west on U.S. 160 out of Ashland. As we moved west, the sunshine finally came out in full force and it became quite warm. Upon reaching U.S. 283, we decided to head to the south toward Englewood, KS. The problem was that the farther and farther south we moved, the towers became less and less impressive. Severe thunderstorm and tornado warnings, meanwhile, were being issued on the group of thunderstorms that were to our north and west. Thus, it was time to head into Dodge City, KS and meet the storms as they moved toward us.
We arrived in Dodge City well ahead of the storms. I made a phone call to KSN and Dave Freeman mentioned that a squall line was definitely taking shape, but it would be another 45 minutes to an hour before it would be to Dodge City. Thus, we staked out the north part of Dodge City on U.S. 50 to wait for the line of thunderstorms to come towards us. While we were waiting, Lindsay Burge and Cory Phelps went inside a near-by store to see if they could see The Weather Channel (specifically radar imagery), since I was not in an area where I could get on the Internet. Joesph Crane and I continued to watch the clouds from the outside, and it was not too long before we heard of severe thunderstorm warnings for counties around Dodge City and saw the skies becoming very dark to our west and northwest. The squall line was approaching. Right about then, my cell phone rings. It was Lisa Teachman, who was helping Dave Freeman out back in the KSN WeatherLab. She mentioned that the squall line would be on top of us very soon, and we had better head southwest out of Dodge City as quickly as possible or we would get burried by high straight-line winds. I ran into the store to retrieve Lindsay and Cory. They did have good luck in finding a T.V. with The Weather Channel. They descibed to me what they saw on the radar, and it was a definite squall line. Furthermore, nothing was going on to our south with the exception of the Texas Panhandle. So we were on the only game in town for the moment.
We moved south on U.S. 56 out of Dodge City, and as we passed by the town of Ensign, KS, we spotted a few lowerings way off in the distance. I tried calling these into KSN, but cell phone coverage was becoming poor. After several attempts, I was able to get most of the word to them. Prior to the K-23 and U.S. 56 junction, we pulled over to the side of the road to observe a very grumpy looking shelf cloud (images below).
Noticing that the squall line was not moving west to east, but rather moving almost due south (toward us), we were not able to view it for very long. Upon reaching the U.S. 56 and K-23 junction, we turned south on K-23 to stay out ahead of the line of storms. We also kept an eye on the southwest corner of the line of storms. We observed occasional lowerings for a time (images below), but those went away quickly.
As we moved south on K-23, we pulled over occasionally to view the shelf cloud coming towards us. It is was during these stops that we noticed that there was a horizontal roll cloud at the leading edge (images below).
Each time we stopped to view the storms, we observed a beautiful lesson in gust fronts. As the first part of the shelf cloud reached our location, a shift in the wind direction, some wind gusts, and much cooler temperatures were observed by us in a split second. Moving down the road, meanwhile, we ran back into the warm air, and our windshields fogged up for a brief time. I did make a telephone call to KSN during our final stop ahead the line to let them know what we were observing. I continued to be in and out of cell phone coverage, so I had to try a couple of times to get through.
We eventually got well out ahead of the squall line and came into Meade, KS. It was here that I made a telephone call to KSN and to WeatherData. The squall line that we left behind to the north was still chasing us, and would be on top of us soon. Meanwhile, there were other tornadic supercells in the Texas Panhandle moving northeast towards us. The thought was that maybe we could intercept a supercell coming out of the Texas Panhandle and watch it as it and the squall line to the north collide with each other. Thus, we headed south out of Meade, KS on K-23 into the Oklahoma Panhandle. It is at this time that we heard of a tornado warning for Seward County, KS with sirens sounding in Liberal, KS. Basically, the squall line, that was still on our tail to the north, was beginning to intersect the storms moving northeast out the Texas and Oklahoma Panhandles. Once we got to U.S. 64, we turned westward to go see what was going on with the storm toward Liberal. Once we passed by the town of Forgan, OK, we were greeted by an incredible "mothership storm" (images below).
Once we got up and under this incredible storm, we observed a wall cloud off to our south (image below). It was here that we decided to follow this feature to see if would do anything. We turned around and moved east on U.S. 64 running parallel to the lowering. The wall cloud did rotate slowly at one point, but it never did anything else, and eventually it went away. We attempted to stay out ahead of the storm has much as possible, but it was right on our heals. Another wall cloud developed as we continued to drive out ahead of the storm (image below).
We pulled over near the junction of U.S. 283 and U.S. 64 west of Rosslon, OK to watch the storm approach us and watch the wall cloud. As before it did rotate for a brief time before it dissipated. However, as we continued to watch the storm, it was quite apparent that it was becomming more absorbed into the squall line with horizontal roll clouds now noted on its leading edge. With that being the case and the fact that darkness was upon us, it was time to decide how we would get home through the storms to our north and without those to our west catching us.
When we arrived in Buffalo, OK, I made a phone call to KSN to see what would be in front of us on our way back to the north into Kansas and then east to Wichita. Dave Freeman mentioned that there was a strong storm in front of us and it possibly had some hail with it, but at that time there was no warning on the storm. We decided to go ahead and move northward on U.S. 183 back into Kansas eventhough that would mean coming close the thunderstorm Dave Freeman was talking about. We did not run into any hail, but we did hit some heavy rain and some wind. Nothing severe was observed, however. Before too long, we were out of the storm activity.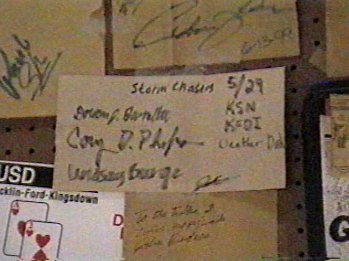 U.S. 183 runs into K-34 north of Sitka, KS, and we decided to take K-34 north to Bucklin, KS and then take U.S. 54 back into Wichita. We ran into some light rain here and there, but the heaviest activity was off to our south and east. Unfortunately, my car died, when we arrived at U.S. 54 in Bucklin, KS. The good things were that 1) no nasty storm was on our tail and 2) the car died right next to a filling station. So we stopped there and called a tow truck to hall my car off to Dodge City, KS for repairs. It was a good thing that we took two cars on the storm chase. I took mine and Joesph Crane took his. So we were able to get in Joe's car and go back to Wichita that way. While we were waiting for the tow truck, we talked with the two people that ran the Zeek's One Stop. And they even had us sign a sack for their "wall of fame" (image above). The unreadable signature at the bottom is Joe Crane's <grin>.
Overall this was a very interesting storm chase. We saw some very interesting cloud formations in addition to meeting a couple of very nice people in Bucklin, KS. I had to go all the way back out to flipping Dodge City a couple of days later to pick up my car. It had to have an alternator replaced. That car, by the way, was retired at the end of June 2001 (1990 model with 156,000+ miles on it) and replaced with a 2001 Saturn. I was always reluctant on purchasing a nice vehicle due to the storm chasing that I do. However, reliability outweighs anything else by far, and it was not just this storm chase that proved that to me.