Storm Chase Log 13 June 2000
Chasers: Dorian J. Burnette, Lindsay Burge, Cory Phelps, and Chris Wilson
Preliminary Destination: Salina, KS
---
Note: Images have been decreased in size. Click on an image to view a larger version.
We departed Wichita shortly after 1:30 p.m. CDT bound for Salina. As we traveled up I-135, we spotted all sorts of growing towers. Much of central and eastern Kansas had morning shower and thunderstorm activity, so much of this stuff was likely developing on old outflow boundaries, as the main cold front remained to the west. I made a quick call to WeatherData to find out exactly where the cold front was, and after some discussion, we decided to remain on target bound for Salina in order to let the cold front come to us. Upon arriving in Salina we got on the Internet to take a look at things, and we saw that the storms were already going ballistic around Omaha, NE with those in Kansas still developing. A look at the water vapor loop, showed that the secondary jetmax was just about to enter northwestern Kansas (this was what was feeding the storms in Omaha). We knew from there that we were on borrowed time.
About 10 minutes later, the National Weather Service issued a severe thunderstorm warning for part of Lincoln County. Cory Phelps spotted lowerings with this storm, and with that being the case it was time to intercept it. We crossed I-70 heading north on U.S. 81 staying quite a bit ahead of the storm and in a good area to where we could see its rain-free base. I made another call to WeatherData and Mike Smith mentioned that the storm we were on did not look as good as the storm directly to the southwest of it. With that information, we decided to turn around and move westward on I-70 to close in on the line of storms. The first good road off I-70 that we came upon led us toward Brookville, KS. As we were traveling toward the town, we spotted very healthy cumulonimbus to our east out ahead of the developing line of thunderstorms. Once good telephone reception came back, we pulled off to the side of the road and called WeatherData again. Mike Smith mentioned that he would let those storms go for now and stay on the one to our southwest that was moving up on us out of Rice county.
We continued to the southwest, but the storm was on top of us in no time. We were hoping that we could move south quick enough to take the next good road and get back ahead of the storm again. However, running into golfball size hail quickly put an end to that. I do not core punch storms, especially potentially tornadic storms! We turned back around and moved back ahead of the storm to I-135 and then took I-135 southward. On the way, we heard of a tornado warning for Rice County with a tornado spotted in Geneseo. Unfortunately, we had no quick means of getting there thanks to road construction all over the place. A few minutes later, we were able to pull off the interstate and move south out of Smolan toward Lindsborg. At this time, we were now able to observe the southwest corner of this storm. By the time we got there, however, the tornado had lifted off the ground, but a rotating wall cloud remained. We were able to retrieve good footage of this (image below). The view is looking north toward Smolan.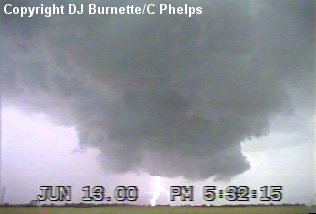 We followed the wall cloud to east, but it began to disintegrate, so we got back on I-135 to move south toward the next storm, which was producing baseball size hail in Lyons. WeatherData told us that the storm was looking bad on the radar. Unfortunately the roads off the interstate were not placed very well. We tried our best to stay out ahead of the storm to move around to the southwest corner, but the storms were quickly evolving into a squall line and the line of storms was on top of us in no time. It was here that we were slammed by strong downburst winds in upwards of about 70 mph. This is the reality of storm chasing, as storms do not behave like you would expect them to. This is the reason why I refuse to "kiss" a tornado.
It was at this time that we heard of two other storms. One was down by Hutchinson and the other was in Pratt County. We heard reports that the one in Pratt county was showing signs of rotation, and after hearing that the storm near Hutchinson was not causing much trouble, we decided to head south to U.S. 54 and then west toward the storm that was moving out of Pratt County and into Kingman County. By the time we got close to the storm on the north side of Garden Plain in far western Sedgwick County, we spotted a rather decent downburst (image below). This time instead of being in it, we were at a far enough distance to observe and video tape it. It had weakened a little bit by the time we were able to move into position to video tape it. We also got some shots of cloud-to-ground lightning with this particular storm (images above). The storm also began to move toward us rather quickly. Attempting to stay ahead of it, we drove back to the east toward Goddard. The storm eventually caught up with us west of Goddard and we had to pull over to wait for it to pass by. This time we just endured heavy rainfall and not much wind. Eventually the sun emerged from behind the rain and formed a spectacular double rainbow to our east (images below).
We did head back west toward Garden Plain watching some isolated lowerings here and there on the back side of the storms, but with it now beginning to become dark, lowerings were becoming more and more difficult to see. We finally ended up west of Lake Afton watching and photographing lightning before heading back to Wichita.